| | |
| --- | --- |
| MaxxiLine Small Helium Tanks 1l(0,11m3), 1.2l(0,12m3), 1.8(0,16m3), 2.2l(0,22m3) disposable helium gas cylinders are suitable for inflating latex/foil balloons with helium | MaxxiLine disposable small helium gas cylinders UNI EN ISO 11118 (EX EN 12205 TPED) are great for birthday parties, theme parties, and special events |
Wholesale Prices Only !!!

MaxxiLine is looking for Stockists in your Country. Contact us for additional information!

| | |
| --- | --- |
| | MaxxiLine 1l 110 bar (0,11m3) Helium Disposable Bottle UNI EN ISO 11118:2015 |
| | MaxxiLine 1.8l 90 bar (0,16m3) Helium Disposable Bottles UNI EN ISO 11118:2015 |
| | MaxxiLine 2.2l 100 bar (0,22m3) Helium Disposable Bottles UNI EN ISO 11118:2015 |




Factory Direct Sales !!!

Contact us TODAY! We offer interesting possibilities, no matter whether you are a Professional Distributing company or a Free Salesman.

| | |
| --- | --- |
| | MaxxiLine 1l(0,11m3), 1.2l(0,12m3), 1.8l(0,16m3), 2.2l(0,22m3) Disposable helium bottles UNI EN ISO 11118:2015 |


The Push-To-Fill Helium Balloon Filler Nozzle allows you to fill Latex and Foil balloon balloons in seconds and don't need to waste you fun time. It's so easy that it almost appears magical. Filling Instruction Guide:

Unscrew the protective cap from the cylinder valve.
Screw the filling nozzle gently into the cylinder valve by hand up to abutting against the valve.
Place the balloon neck over the filling nozzle making sure there is a snug fit so no helium can escape.
Hold the balloon neck firmly on the filling nozzle and gently press the lever down to release the helium. Release the lever on the nozzle to stop inflation and remove the balloon, pinching the neck closed so no helium can escape.
When you have finished inflating balloons, unscrew the filling nozzle from the cylinder valve and screw again the protective cap.
After inflating latex balloons, pinch balloon tightly at base of balloon neck and remove from nozzle. For foil balloons, simply remove from nozzle after inflation, as foil balloons are self-sealing.
To assure maximum float time, tie a tight knot in the neck of the latex balloon. Foil balloons do not require a knot.
Attach ribbon of desired length below the knot on latex balloons or the lower neck area of foil balloons.
MaxxiLine Small Helium disposable cylinders to fill latex and foil balloons. MaxxiLine helium disposable tanks are ideal for birthday parties.
Bouteille de gaz jetable d'helium, Bouteilles d'helium NON Rechargeables, Bouteilles d'helium transportables, Bouteilles d'helium métalliques non rechargeables, Bouteille à usage unique d'helium, Vente directe de bouteilles Helium jetable, helium, ballon helium,bouteille helium jetable, bouteille helium, bonbonne helium
Heliumflasche zu Air Swimmers, Helium Ballongas Einwegflasche, Einweg-Helium Gasflasche mit praktischer Fülldüse, Helium Ballongas Einwegflasche Bombolo Luftballongas, Heliumflasche zu Air Swimmers 2.2l, Balloons Fantasy Helium
Bombona no recargable gas helio, Botella no recargable para Helio, Comprar bombonas de helio desechables, Gas Helio para globos, Botellas de helio de diferentes tamaños.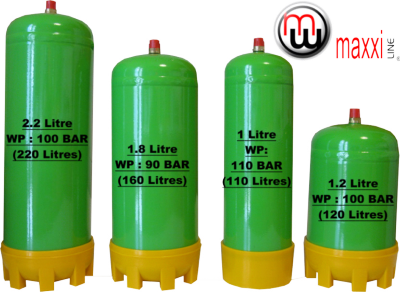 MaxxiLine Helium Gas Bottle Specifications:
1 LITRE Non-Refillable disposable gas bottle : Dim. 285mm height x 80mm diameter
Working Pressure: 110 Bar (0,11m3 gas compressed)
1.2 LITRE Non-Refillable disposable gas bottle : Dim. 195mm height x 102mm diameter
Working Pressure: 100 Bar (0,12m3 gas compressed)
1.8 LITRE Non-Refillable disposable gas bottle : Dim. 280mm height x 102mm diameter
Working Pressure: 90 Bar (0,16m3 gas compressed)
2.2 LITRE Non-Refillable disposable gas bottle : Dim. 325mm height x 102mm diameter
Working Pressure: 100 Bar (0,22m3 gas compressed)
MaxxiLine Marketing
Via C.Cadoppi N.8
42124 Reggio Emilia - Italy
Tel: +39 0522 272630
Voip: +39 02 00610708
Fax: +39 02 700407574
Mobile: +39 339 5456609
Skype: maxxiline
info@maxxiline.com